SPIRITUAL WARFARE SCRIPTURES  are intended to bring you comfort and to let you know that you are not alone in this battle called Spiritual Warfare. The key to overcoming anything in life is information and understanding. Only when we equip ourselves with the knowledge of the Word of God, do we have a firm foundation. There is no other foundation that any man can lay except Jesus Christ, The Lord.
When you find yourself in a spiritual battle, it is important for you to know that the battle is the LORD's and we are only His soldiers.The first thing that we need to do is to exercise the authority God has given us through the name of Jesus and spiritual warfare Scriptures. However, while it is important that you understand that we CAN do all things through Christ who strengthens us, you must also realize that we can do nothing without Jesus.
When God saves someone from hell, as well as any wrath to come, by the name of Jesus, He also gives them authority over the enemy when they understand and take a stand on the Word of God.
ARE SPIRITUAL WARFARE SCRIPTURES  FOR ME?
There are so many Christians who do not think, or either do not know, that God has given them the ability to do miracles and cast out devils by the power of the name of Christ. Yes, this means you too if you do it for the glory of God.
Let's look at Mark 16:17
17 And these signs shall follow them that believe; In my name shall they cast out devils; they shall speak with new tongues; 18 They shall take up serpents; and if they drink any deadly thing, it shall not hurt them; they shall lay hands on the sick, and they shall recover.
Acts 3:1-7, Now Peter and John went up together into the temple at the hour of prayer, being the ninth hour. 2 And a certain man lame from his mother's womb was carried, whom they laid daily at the gate of the temple which is called Beautiful, to ask alms of them that entered into the temple; 3 Who seeing Peter and John about to go into the temple asked an alms. 4 And Peter, fastening his eyes upon him with John, said, Look on us. 5 And he gave heed unto them, expecting to receive something of them. 6 Then Peter said, Silver and gold have I none; but such as I have give I thee: In the name of Jesus Christ of Nazareth rise up and walk. 7 And he took him by the right hand, and lifted him up: and immediately his feet and ankle bones received strength.
WHO DO SPIRITUAL WARFARE SCRIPTURE SAY I AM?
Need more to proof of kingdom authority and that it is the believer that cast out the demons? Click here. Now, just because you can do these things in the name of Jesus, does not make you little Lord Ha Ha. All glory belongs to God. The first time you do not recognize that, you are going to get hurt physically if not worse, click here and see what I mean.
Some may say that I am wrong and say something like, "why even Michael the great archangel, durst not bring a railing accusation against the devil." However, I am not an angel. Angels, even the archangel, Michael does not have the indwelling Holy Spirit in him. He has not been made one with Christ.
The archangel, Michael is not endowed with the powers that the believer has. Jesus never told Him what He told those who would follow Him.
But you say, "man was created a little below the angels, and we fell from THAT position." Understand this. When God saves us, God does not RESTORE us to where we would have been, if Adam and Eve had never fallen. No, a thousand times no. John 3:16 says that God gave us Jesus if we have faith and now we are made one with Jesus. We are symbiotic. Unlike the Archangel, Michael, Christ Jesus is inside me. Neat huh?
God did not restore me; He re-made me! He did not restore to a level a little lower than the angels where God created the first man. I have the name that is above all names. I am not restored; God reconciled me to Himself. Christians we are made one with God. Whoa, preacher are you talking about we are on the same level as Jesus? Oh, NO I am NOT saying THAT! The Bible does, however.
I am just telling you what the Bible declares and that I am the righteousness of God since Jesus took my sin, and I took His righteousness, and I died, (all things are passed away), and behold I became new, not restored, new.
2 Corinthians 5:17 Therefore if any man be in Christ, he is a new creature: old things are passed away; behold, all things are become new.
2 Corinthians 5:21 For he hath made him to be sin for us, who knew no sin; that we might be made the righteousness of God in him.
AM I DEAD OR ALIVE ACCORDING TO SPIRITUAL WARFARE SCRIPTURES?
Old things are passed away, just like the dead bodies of my parents who have passed away. Behold God makes all thing new. If any man is in Christ, he is a NEW CREATION. He is a different creature. If you are no different, you are not saved.
Why is this relevant information for spiritual warfare, preacher? Because to properly engage the enemy, you need to know your enemy. How are you going to do this if you are not sure who you are? Know your identity in Christ. Why? So you will know who Christ is in you. When you overcome the devil, it will not be by power or by might, but by the Spirit of the living God.
Knowing who you are in Christ will switch the load from you to Him so as to not blow the circuit. Get the flesh out of the way and let the power of God flow through you. If you are grounded in yourself, Satan will kill you. Be a channel of blessing. You are to be rooted in Christ! Otherwise, you will meet with too much resistance and burn out. You say, "I would rather burn out than rust out." What a stupid thing to say, I don't want to be out!
You mean to tell me that you think the Bible is telling you that you are somehow equal to a begotten son just because the Father has adopted you? No, I am not equal! A natural child can be legally ostracized. Did you know you cannot disown an adopted son? You chose them, and you endowed YOUR name legally to them. Your children have their names but when you adopted you imputed your name to that child. You cannot disown because you cannot disown yourself.
Salvation for the Jews is through faith. However, with me faith is not the vessel I use but, faith saves me. Not through faith, but by faith. A Jew, (an infallible one), moved inside me. He also promised He would never leave me nor forsake me. He did not say, unless, except, but, or any other word giving Him right to revoke that promise of never leaving.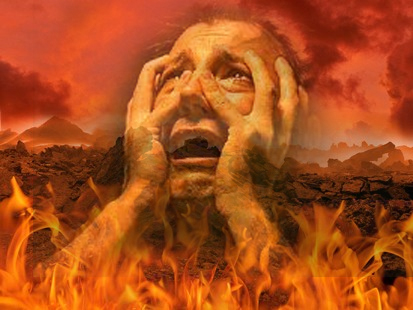 If I go to hell, Jesus goes to hell with me, and since the Father will not suffer His Holy One to see corruption, I only relax when it comes to my salvation, seeing my salvation is forever settled in heaven. I am sealed according to His Word until the day of redemption.
The redemption of this tired old body when I will be forever safe and secure in Heaven. Are you saved from the wrath to come? Call me if you are not, collect, my country's code is +1 (256)980-9780.
Yes, that is what the Bible teaches. Go and research the Holy Bible and even our natural laws concerning an heir line. I am under a blood covenant and that not of myself. God the Father cut the covenant, (contract, treaty, testament, accord) in my stead with God the Son on the bloody rugged hill of a skull called Calvary, Golgotha.
Jesus IS the fulfillment of Torah. What Christians call the Old Testament authorized version 1611, King James.
When you witness to Jews YOU MUST USE THE TORAH. Do not refer to it as the "Old" Testament. Jews call it the Torah, and do not use another translation, use the KJV 1611 Authorized Version. HaShem,("The Name," what the Jews call Jehovah), Yud Heh Vav Hey, (It is not pronounced with vowels. Yod Hey Vav Hey means "he exists." And the Hebrew word for name is "Shem"  the root of the word "Ne Shem Ah", which means "breath." You speak the name of God by pronouncing YHWH, which is the sound of your breathing.), Adonai, the Logos became flesh and suffered and died, was buried and rose again!
Get this. He who transcends time, Haya, Hoveh, and Yeheyeh, became flesh and died for me and paid my sin debt passed-Haya. present-Hoveh and future-Yeheyeh. Yes, I am subject to time and I sin, but He is not and His life is not so His death is not.
He Is Adonai and is outside time so since my future self, get this, HAS BEEN ALREADY saved, and He Has Paid My Sin Debt Already In The Future  because He is Already there. I cannot sin even though I sin. Why? Sin is falling short of the mark by very definition and since it was, is, and yet shall be, His burden to impute righteousness to me, I do not sin.
When you understand this, you understand that it is sheer arrogance and ignorance to think that somehow I have the power, drive, desire, strength, know how or ability to be somehow greater than God to remove myself from His grip.
Some More Spiritual Warfare Scriptures. Isaiah 49:15-17
15 Can a woman forget her sucking child, that she should not have compassion on the son of her womb? Yea, they may forget, yet will I not forget thee. 16 Behold, I have graven thee upon the palms of my hands; thy walls are continual before me. 17 Thy children shall make haste; thy destroyers and they that made thee waste shall go forth of thee.
Salvation for my soul was God's idea, not mine. He told the disciples that they did not choose Him, but He chose them. Jesus, (the Son of Man), who calls us brethren, not children, said He and the Father were one. They are. There is rank even among the Godhead. The Godhead is called "Elohim" which is both singular and plural. That is a topic for another time. See Trinity.
By what authority do you say this? Who do you think you are? Good questions. Since I am in Jesus, and He is in me, I'm the righteousness of God. "He who knew no sin, became sin for me, that I could become the righteousness of God in Him."
Your Chatter Matters. Please Leave A Comment Below if you liked this.
Leave a comment below if I am wrong to straighten me out. Please read all comments and feel free to reply to others. Bookmark to return to view your answers.
Thank you, for reading Spiritual Warfare Scriptures
Please Comment & Share using the Social Media Buttons at the Top & Bottom of this Page. Thank you.